Zoom Plugin verfügbar / Zoom plugin available
CERN Zoom Indico Plugin verfügbar
Liebe Indico-Nutzer,
ab sofort können Sie aus Indico Veranstaltungen heraus Zoom Videokonferenzräume anlegen. Diese können für die ganze Veranstaltung, für Sessions und Contributions erzeugt werden. Die Zugangsdaten können Sie entweder für jeden, nur angemeldete Benutzer oder nur für
registrierte (und angemeldete) Teilnehmer ihre Veranstaltung zugänglich machen. Sie finden die dafür notwendige Funktionalität im Manage-Modus Ihrer Veranstaltung unter dem Punkt "Services" -> "Videoconference". Der Zugang zu den Zoom Räumen wird den berechtigten Besuchern Ihrer Seite für Konferenzen im Navigationsmenü ihrer Veranstaltung angezeigt, für die anderen Veranstaltungstypen findet sich ein entsprechender Link unter der Titelleiste der Veranstaltung.
Voraussetzungen
Um diese Funktionalität nutzen zu können müssen bestimmte Voraussetzungen erfüllt sein. Dies ist zum einen, dass unter der DESY E-Mail Adresse Ihres Indico Benutzerkontos ein DESY Zoom Konto registriert sein muss. Weiterhin müssen Sie in Indico als berechtigt zum Anlegen von Videokonferenzen eingetragen werden. Für alle Fragen zum Zoom Konto, wenden sich DESY Mitarbeiter bitte an den DESY Meeting Service. Für eine Berechtigung, um in Indico Videokonferenzräume anzulegen, schreiben Sie bitte eine E-Mail an indico@desy.de. Bitte beachten Sie auch, dass die in Indico erzeugten Videokonferenzräume den Funktionsumfang Ihres Zoom-Kontos widerspiegeln, das ist z.B. bei einem Standard-Konto eine Höchstdauer von 40 Minuten für Ihre Session.
--------------------------------------------------------------------------------------
CERN Zoom Indico plugin available
Dear Indico users,
From now on you can create Zoom video conference rooms from within Indico Events. These can be created for the whole event, for Sessions and Contributions. You can set the access data either for everyone, only logged in users or only for
registered (and logged in) participants of your event. You will find the necessary functionality in the Manage mode of your event under "Services" -> "Videoconference". Access to Zoom rooms is displayed to authorized visitors of your page for conferences in the navigation menu of your event, for the other event types you can find a corresponding link under the title bar of the event.
Requirements
In order to be able to use this functionality, certain requirements must be met. This is firstly that a DESY Zoom account is registered under the DESY email address of your Indico user account. Furthermore, you must be registered in Indico as authorized to create video conferences. For all questions regarding the Zoom account, DESY employees should contact the DESY Meeting Service. For an authorization to create videoconference rooms in Indico, please contact us at indico@desy.de. Please also note that the videoconference rooms created in Indico reflect the functional scope of your Zoom account, which is e.g. for a standard account a maximum duration of 40 minutes for your session.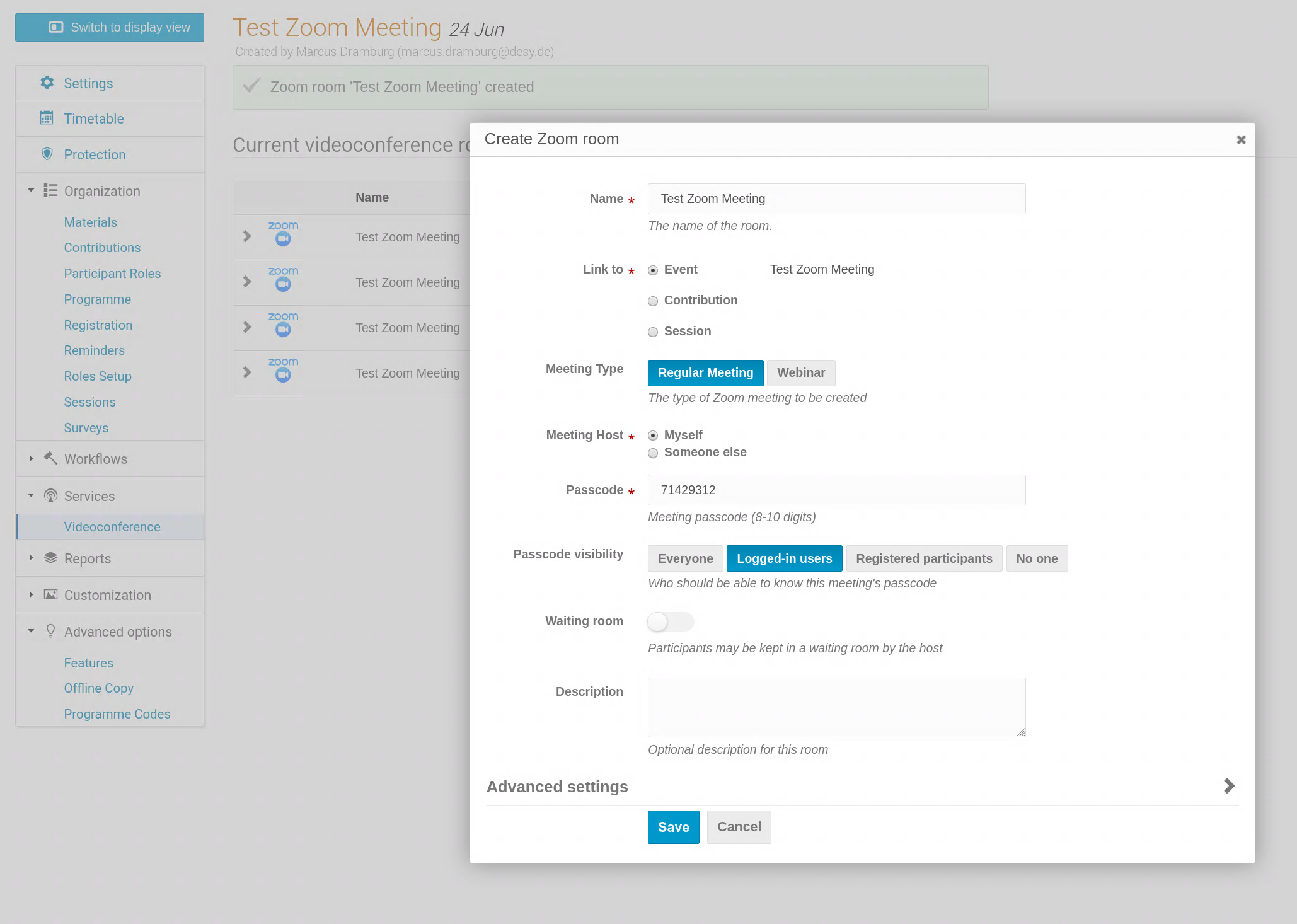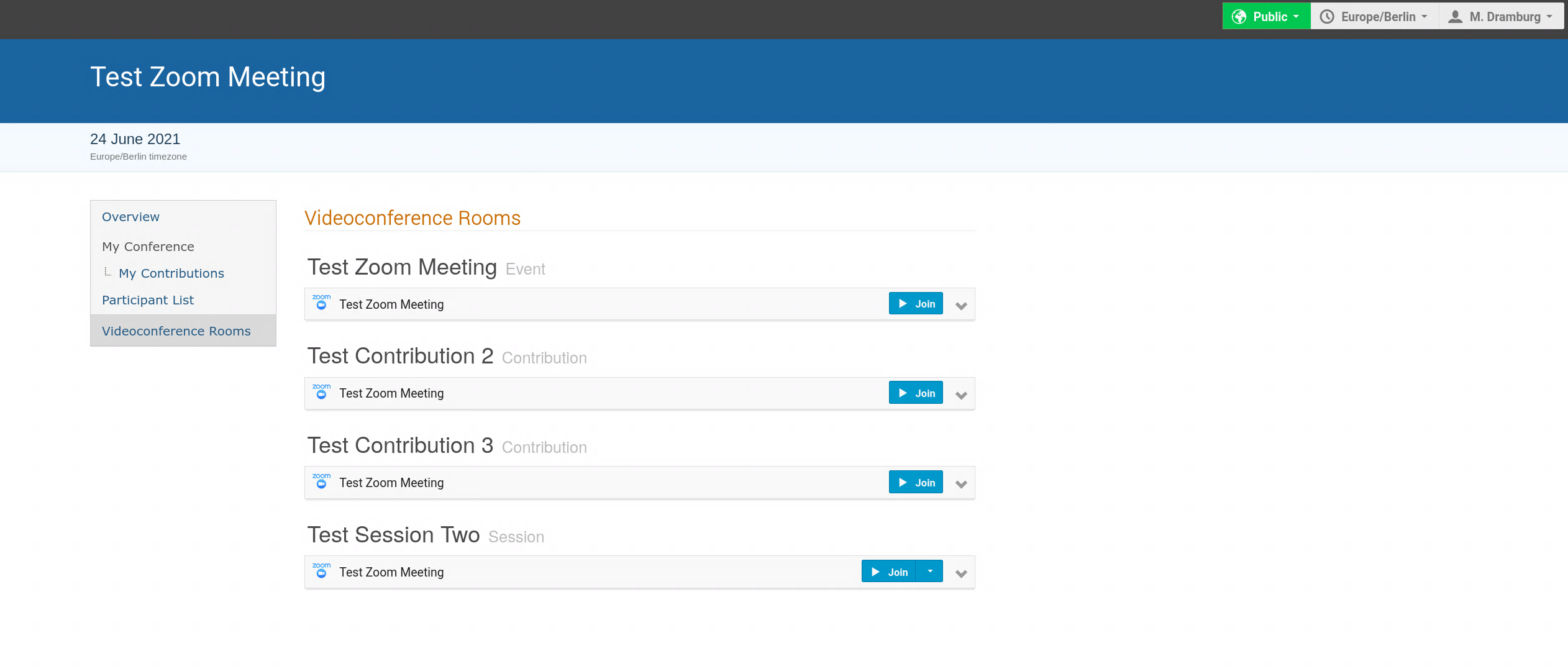 Änderungen im Indico-Betrieb / Changes in indico operation
(english version below german text)
Liebe Indico Nutzer bitte beachten Sie folgende Änderungen im Indico-Betrieb der nächsten Wochen:
- Wie in der August-Sitzung des CUC angekündigt fällt mit 1. Oktober 2020 das elektronische Bezahlverfahren in Indico weg. Hintergrund ist die Kündigung des Vertrages mit dem Zahlungsdienstleister Telecash durch V3. Alternativen, wie Paypal und mittelfristig auch ein Registrierungs- und Zahlungsmanagement durch externe Dienstleister befinden sich in der Überprüfung. Bis zu deren Realisierung etwaiger anderer Zahlungsmöglichkeiten bleibt Ihnen die klassische Banküberweisung. Bezüglich Kontodaten und Modalitäten wenden Sie sich wie gehabt an V3.
- Am Wochenende 17. und 18. Oktober steht der Wechsel auf eine aktuelle Indico-Version an. Da diese einen Wechsel des Datenbankmodells mitbringt, wird der Dienst über mindestens 8 Stunden, beginnend ab Samstag, den 17. Oktober 9:00 Uhr (Zeitzone Europe/Berlin) nicht erreichbar sein. Bitte beachten Sie, dass ein verlässliches Arbeiten mit dem System, unter Umständen erst wieder am Montag Morgen möglich sein kann, und legen Sie Termingrenzen in Ihren Veranstaltungen dementsprechend. Dieses Verfahren wurde in der August- und September-Sitzung des CUC angekündigt. Sobald Indico nach der Umstellung wieder verfügbar ist werden wir Sie darüber unterrichten.
Im Zuge der Umstellung auf eine aktuelle Indico-Version werden sich noch folgende Punkte ändern:
- Wegfall des Exportskripts /export.py - Nutzen Sie bitte künftig die reguläre
Exportschnittstelle [1].
- Wegfall der zusätzlichen Pfadangabe /indico - Alle Pfade die mit einem
indico.desy.de/indico/ beginnen, werden automatisiert auf indico.desy.de/
umgelenkt.
- Mit der nächsten Indico Version ist eine Anmeldung am System mit DESY-Account
möglich. Bei Übereinstimmung von Vor- und Nachnamen, sowie E-Mailadresse zwischen
DESY-Account und lokalem Indico-Account wird Ihnen ein Zusammenlegen der Konten
vorgeschlagen.
[1] https://docs.getindico.io/en/stable/http_api/access/
--------------
Dear Indico users please note the following changes in Indico operation in the coming weeks:
- As announced in the August meeting of the CUC, the electronic payment procedure in Indico will be discontinued as of October 1, 2020. Background is the termination of the contract with the payment service provider Telecash by V3. Alternatives such as Paypal and, in the medium term, registration and payment management by external service providers are currently being reviewed. Until these alternatives are implemented, the classic bank transfer remains the only option. Regarding account data and modalities please contact V3 as before.
- On the weekend of October 17th and 18th, the change to a current Indico version is scheduled. As this will involve a change of the database model, the service will be unavailable for at least 8 hours, starting on Saturday, October 17th at 9:00 am (time zone Europe/Berlin). Please note that reliable work with the system may not be possible again until Monday morning, and set time limits in your events accordingly. This procedure was announced at the August and September meeting of the CUC. We will inform you as soon as Indico is available again after the changeover.
In the course of the transition to a current Indico version the following points will change:
- Removal of the export script /export.py - Please use the regular
export interface [1].
- Removal of the additional path specification /indico - All paths that begin with a
indico.desy.de/indico/ will be automated redirected to indico.desy.de/ .
- With the next Indico version it will be possible to log on to the system with a DESY
account. If first name, surname and e-mail address match between the DESY account
and the local Indico account, a merging of the accounts will be suggested.
[1] https://docs.getindico.io/en/stable/http_api/access/
Löschen der Test-Kategorie im Vorfeld der Indico Migration / Deletion of category Test in the run-up to Indico migration
---
(english version below german text)
Liebe Nutzer*innen der Indico-Kategorie "Test",
am Dienstag, den 01.09.2020, um 9:00 Uhr wird eine Löschung der Kategorie "Test" und deren Inhalt im Konferenz-Management-System Indico durchgeführt.
Sollten Sie in der Kategorie "Test" noch Events haben, die Sie als Rohbau für eine reale Veranstaltung nutzen und die sie nur bis zur Fertigstellung dort "verstecken" wollten, lassen Sie und bitte rechtzeitig wissen, wohin die Veranstaltung verschoben werden soll. Reine Testveranstaltungen werden wir aus den unten angeführten Gründen allerdings nicht verschieben.
Der Grund für die geplante Löschung ist ein anstehender Wechsel auf eine aktuelle Indico-Version und der damit einhergehenden Umstellung des Datenbankmodells der dahinter liegenden Datenbank. Diese Umstellung ist eine zeitaufwändige und fehleranfällige Prozedur, weshalb wir bemüht sind, die zu überführende Datenmenge und deren Komplexität möglichst gering zu halten.
Insbesondere mit den in der Kategorie "Test" vorhandenen Veranstaltungen wurde naturgemäß viel experimentiert, wodurch das Potential, auf nicht migrierbare Inhalte zu stoßen, dort besonders hoch ist. Um dies zu vermeiden, planen wir, die Kategorie "Test" mitsamt Inhalt zum oben genannten Termin zu löschen.
Auf der neuen Indico-Version werden wir wieder eine Test-Kategorie zur Verfügung stellen, die Sie wie gehabt werden nutzen können.
Im Falle von Rückfragen wenden Sie sich bitte an das UCO (Tel: 5005, E-Mail: uco@desy.de).
-----------
Dear users of the Indico category "Test",
on Tuesday, 01.09.2020 at 9:00 am, the category "Test" and its content will be deleted from the Indico conference management system.
If you still have events in the category "Test" that you are using as a shell for a real event and you only wanted to "hide" them there until finalisation, please let us know in a good time where you want us to move it. However, we will not move pure test events for the reasons listed below.
The reason for the planned deletion is an upcoming upgrade to a current Indico version which involves a change of the database model of the underlying database. This change is a time-consuming and error-prone procedure, so we try to keep the amount of data to be transferred and its complexity as low as possible.
Especially with the events available in the category "Test", a lot of experimentation has naturally taken place, which increases the potential to come across non-migratable contents is particularly high there. To avoid this, we plan to delete the category "Test" and its content by the above-mentioned date.
On the new Indico version we will again provide a test category that you can use as before.
If you have questions, the UCO is at your service (Tel: 5005, E-Mail: uco@desy.de).