We are excited to announce we will this year be hosting a virtual instance of "QCD meets Gravity" series of workshops this Nov 30 - Dec 4 , 2020.
We will follow a format inspired by the successful earlier in-person meetings at Edinburgh, Nordita and UCLA.

This series aims to bring together experts in gravity and gauge theory in view of the recent convergence between the fields.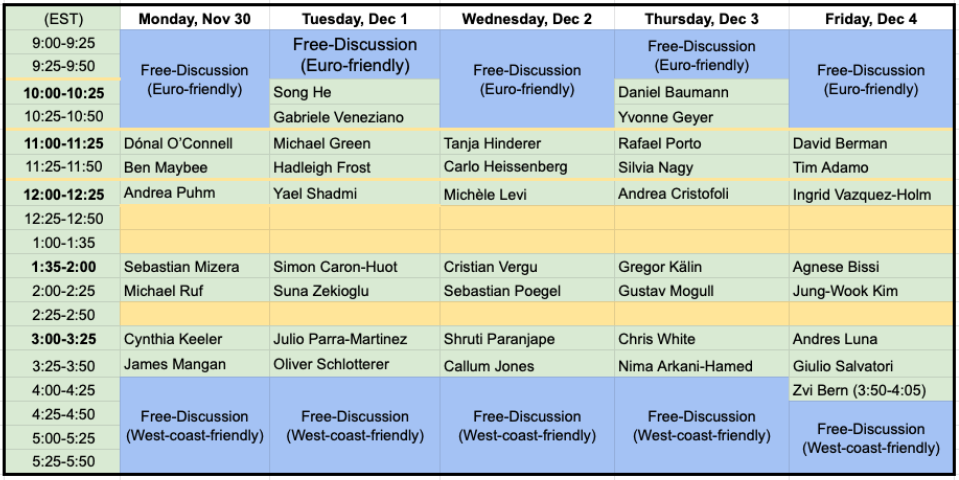 Scientific Advisors:
Zvi Bern, Henriette Elvang, Donal O'Connell, Radu Roiban, Anastasia Volovich
Conference Organizers:
Jacob Bourjaily, John Joseph M. Carrasco, Henrik Johansson, Mikhail Solon
Add'l Chairpersons:
Enrico Herrmann (UCLA), Eduardo Casali (QMAP - UC Davis), Piotr Tourkine (CNRS & CERN), Alex Edison (Uppsala University), Mariana Carrillo Gonzalez (Imperial College London), Chia-Hsien Shen (UC San Diego), N. Emil J. Bjerrum-Bohr (Niels Bohr Institute, NBIA), Matthew Lewandowski (Northwestern University), Jaroslav Trnka (QMAP - UC Davis), Hofie Hannesdottir (Harvard University), Alfredo Guevara (Harvard University).

Registered participants will receive an invitation to the conference slack channel.
All talks occurred over Zoom.

Slides available via [speaker pages].
Talk videos hosted on [YouTube].